Psara Island

Area: 40 sq km
Population: 460
Post Code: 82104
Telephone Code: 2272
Police : 61222
Port Police: 61252
Municipality: 61266
Port of Chios: 2271-44433

Psara is located 12 miles to the northwest. It can be reached by boat from the city of Chios. The island has been the site for many heroic and tragic episodes. The famous revolutionary admiral, Kanaris was born in Psara, and Psarians were among the first of all Greeks to join in the revolt against the Turks in 1821. In 1824 the Turks attacked the island and massacred more than 15.000 Greeks; only 3.000 managed to escape. The island never recovered from the complete destruction.

Today, the island is inhabited by less than 500 people, which all live in the village of Psara. The visitor can find a few cafes, snack bars and rooms to let, but no other tourist services exist.
Hydra Island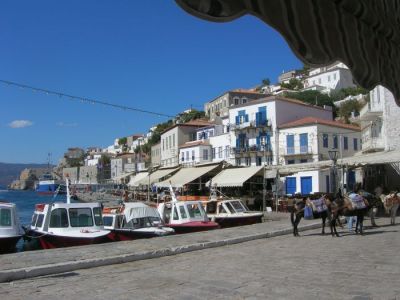 Welcome to Hellas (Greece) and welcome to Hydra! it's probably impossible to fit all of Hydra's fascinating beauty in this small pamphlet. We have attempted, however, to give a short description of the island that has enough to offer the visitor and guarantees a memorable vacation.
The healthy dry climate, the friendly people, the sparkling warm waters and the picturesque harbor that at sundown transforms into a cosmopolitan city full of sports, scuba diving, trips to the islander historical monasteries, donkey rides in town, shopping In the stores along the harbor, good food in the taverner and restaurants, and all night partying at the bars and music clubs around town.
The high quality and exquisite service characteristic of the hotels and other shops and restaurants fit perfectly the strict standards of the highest class visitors and the jet set from all over the world that come to Hydra every year.

Sponsored by Mistral Hotel
Have a wonderful time...